Affiliate marketing can help you earn thousands of dollars a month by recommending genuine products and services that can actually benefit your audience.
Yes, that's the power of affiliate marketing mixed with great content and a trustworthy brand.
It's a great strategy to earn considerable passive income with a little bit of initial effort so you can earn while you sleep. You can literally earn from someone else's product or service without getting into the hassles of building it.
Given the flexibility and convenience of working from home and making good money, affiliate marketing is becoming popular.
According to Statista, affiliate marketing expenditure in the US may reach US$ 8.2 billion by 2022, from US$ 5.4 billion in 2017.
So, if you want to make money online without much investment, affiliate marketing can be a good option for you.
Let's understand what affiliate marketing is and how to make money through it.
What Is Affiliate Marketing?
Affiliate marketing is a marketing technique by which you, as an affiliate, can earn a commission on marketing or recommending a company's or person's products or services.
It's like a referral program where you can refer or promote products and services you like to your audience on your blog, website, social media channels, or YouTube channel. And if your audience buys a product or service through you, you get a small commission from that sale.
The commissions can be on a percentage basis for each sale, or a fixed amount and sales are determined through affiliate links that the product/service owner has provided you.
If that sounds confusing, let me simplify this for you by explaining how affiliate marketing really works and what its main components are.
How Affiliate Marketing Works?
In short, you can join affiliate programs relevant to your niche and audience. You can either connect to such programs through direct partnerships with brands or joining affiliate networks. And when you join an affiliate program, the brand or affiliate network will provide you with a unique link to include in your promotional materials, such as your blog or YouTube channel.
So, you create content around the product and include the links within, enabling your audience to click and buy the product or service. When the sale is made through your link, you get a small commission out of this sale.
Affiliate marketing involves various individuals who create and promote a product or service. The main components of affiliate marketing are – A product owner, an affiliate, the consumer, and an affiliate network (optional).
Let's explore their relationships and roles in affiliate marketing.
Product Owner
As the name suggests, the product owner owns the product or service that needs to be marketed. They can be a large enterprise, a small and medium-sized business, or an entrepreneur who has created the product.
The product could be anything like a tangible object such as a refrigerator, cosmetics, etc., or an intangible thing like an online course. Similarly, the service could be a web hosting service, car rentals, and so on.
For example, the product owner could be a web host who wants to expand their audience base by reaching more people through a blogger whose readers can be the web host's potential customers.
Affiliate Marketer
An affiliate marketer is a publisher who can be a company or an individual, such as a blogger or YouTuber. The affiliate marketer promotes the seller's services or products on their platform or site by persuading the audience. They can do this by creating compelling content around the product or service, explaining its benefits.
If readers or viewers like the product or service, they can check the product links mentioned and click on it to buy. When the sale is successful, the affiliate marketer gets a percentage of this sale. Being successful as an affiliate marketer requires a brand that their audience can trust enough to consider their recommendations.
The Consumer
Affiliate marketing is aimed at the consumers. The consumers can be the regular audience like a blog's readers or a YouTube channel's subscribers who regularly check out the creator's content to find information. When they find the content useful, along with the product or service recommended, they may buy it.
The Affiliate Network
Although you can directly associate with a brand to become their affiliate, you can ease the process by doing this with the help of an affiliate network like Amazon Associates. They act as mediators between the merchant and the affiliate and handle things like product delivery and payments to simplify the process.
In fact, some merchants run their affiliate programs only via an affiliate network. In this case, you will have to go through the network to promote the service or product. It can also give you various options to choose the products and services.
Is Affiliate Marketing Worth It?
Sometimes, marketers may wonder why they should become an affiliate marketing only to earn a small percentage of the sale they made.
Is it really worth it?
Why affiliate marketing when there are plenty of avenues to make money online?
Well, affiliate marketing is one of the most inexpensive ways of making good money without getting into the hassles of creating a product and selling it on your own. All you need to do is to recommend the product to your audience and make money.
Let's look at the benefits of affiliate marketing to explore why you can consider it.
Passive Income Source 💰
Unlike a regular job that needs you to work regularly to continue earning, affiliate marketing allows you to make money when you sleep. With some initial investment in time and effort, you can earn big continually whenever someone buys through your link.
Low Investment
Starting a business generally costs some money. If you want to create a product, you will need a lot of things – an idea, money for manufacturing, a team for marketing and selling the product, and other investments.
However, getting started with affiliate marketing won't cost you any money. You just need to invest effort and time to create content around the product and persuade your audience toward it.
Work from Anywhere
Affiliate marketing runs online; hence, you can work from anywhere you want to create content and embed the links. That's it. Your content will keep you earning for as long as affiliate links work. This is an excellent option if you hate the office environment and love working from home.
Better Performance, More Income
Usually, a job pays a fixed amount of salary if you work for 40 hours a week or 45 hours. Although you can make some bonus based on your good performance, it's still limited.
However, affiliate marketing completely depends upon your performance. The more efforts you make on your content and build your brand and audience, the more you can earn.
How's an Affiliate Marketer Paid and How much?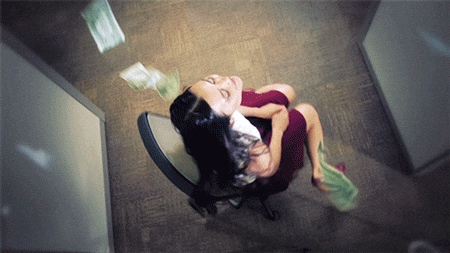 An affiliate marketer is paid in different ways:
Pay per click for redirecting the customers from your blog or marketing channel to the seller's website where the product is listed originally.
Pay per sale to get a small percentage of the product's sale price
Pay per lead to get paid according to the number of conversions from the leads on subscribing to a newsletter, downloading a guide, going for a product's free trial, etc.
Now, the interesting question – how much can an affiliate marketer earn?
Well, there's no limit. You earn based on your effort, payment model, and your chosen niche or industry. You can earn from a few hundred dollars to tens and thousands of dollars every month from your affiliate programs (of course, if you do it right). Your earning will also depend upon the number of affiliate programs in your niche, followers, the subscribers you have, the quality of your content, and your reach.
For example, Ryan Robinson, a blogger and affiliate marketer, earned around $44,000 in June 2020.
Also, according to PayScale, the average income of affiliate marketers annually is around US$ 51,217.
How to Become an Affiliate Marketer
Getting started with affiliate marketing requires a few things:
A platform to create content
Choosing the products and services you want to promote
Creating a Marketing Platform
To be able to talk about a product or service that you can recommend to people, you need to have a platform where you can create content and do promotions. It could be a website or blog, a YouTube channel, or a social media profile like Instagram.
Opening a YouTube channel or social media profile is not a hassle or needs investment. But, if you want to start a blog, you may have to invest some bucks in it. You will need a domain name, web hosting, and a site builder like WordPress – effortless for everyone, even beginners.
You can take the help of this guide to build your WordPress website easily without coding.
Choosing Products/Services
Once your site or marketing platform is ready, you need to choose products and services to promote. For this, you must figure out what you actually want to promote or start your blog or channel on.
Always choose products and services from your niche to keep your audience hooked, instead of confusing them with products from a completely different niche.
Here you have two options – you can either directly associate with a seller or join an affiliate marketing platform. If you are a beginner, the latter may be easier for you. They will connect you to the merchants and help you earn good money.
Here are some of the affiliate networks you can consider:
Amazon
Amazon introduces Amazon Associates Program for bloggers, publishers, and content creators to monetize their traffic. Choose from millions of products and use simultaneous links to recommend your audience.
You will earn a certain amount for each qualifying program or purchase. Just sign up and join the community of thousands of bloggers and creators and publish the product details to educate your audience about a product and boost sales. Amazon gives you up to a 10% commission for each qualifying purchase and program. You can also customize linking tools to create a unique product link to help visitors directly open the product page.
ShareASale
Monetize your content with the ShareASale affiliate program and create a profitable, long-lasting partnership by recommending relevant services and products to your readers.
ShareASale helps content creators and influencers attract more audiences and monetize by partnering with favorite brands. Media partners can also use the affiliate program to manage, build, and find relevant brand partnerships.
You can track your affiliate performance through robust and transparent reporting. In addition, attract more customers by giving them back some incentives on their purchases.
Awin
Promote products and/or services to your audiences with Awin's affiliate links and create profitable partnerships with the leading brands. It offers an easy-to-use and intuitive platform with consistent and faster payments. Whether you are a mass media partner, webpage owner, blogger, or publisher, connect with the right brands, promote them, and get a commission.
Generate trackable links easily to share with your audiences, stay informed of the offers and promotions, and track your performance to improve. You also get advanced tools to optimize your performance.
Rakuten
Join the Rakuten community for FREE and start earning from today. Rakuten works with a variety of stores and redirects you to the product page where you want your audience to buy and earn yourself a commission as cashback. Open a FREE account within 30 seconds, shop on an extension or app, and grow your cashback.
You can withdraw the cashback either via cheque or PayPal. Rakuten can also make your shopping interesting by letting you earn money while shopping. From restaurants to riding and clothes to electronics, Rakuten finds the best deals for you to shop easily.
Shop for a minimum of $25 within 90 days of joining and earn a welcome bonus of $10.
CJ
Connect with world-class brands by joining CJ's affiliate marketing program and monetize your content. CJ pairs with innovative solutions and tools with strategic guidance to help you grow your business. You get robust tools to understand your audience and reach out to them with the latest products and offers to enhance user experience.
CJ provides strategic recommendations based on the distribution model, business size, vertical, and region. Its intuitive platform helps you start your membership effortlessly to earn a commission on successful purchases. You can also use actionable insights to discover the right brands and the latest tech for growth.
Use Deep Link Generator to create links directly from a site or convert existing URLs into links. It offers two payouts in a month, and you can track the commissions and historical payouts from the affiliate dashboard. In addition, analyze affiliate performance from commission metrics based on promotional properties and product type.
CJ's API offers the flexibility of managing relationships, discovering products, accessing offers, viewing program performance, and promoting products.
ClickBank
ClickBank is one of the leading marketplaces to earn high commissions on quality products. It features over 4000 quality products from thousands of retailers for affiliate marketing.
ClickBank's device-level tracking helps you get paid for each sale. It also assures reliable payment delivery and offers the highest commissions in the affiliate program industry, including CPA and Revenue Share. Plus, its platform educates new affiliates with in-depth training by experts and a comprehensive library of actionable strategies to grow your affiliate marketing career.
Impact
Understand your audience choice, partner with the brands, and start your affiliate journey to make money with impact.com. It lets you monetize your content with products that match viewers' preferences, track devices, and provides control and flexibility to develop profitable and long-term partnerships.
Withdraw your amount once a month on the set day whenever your balance reaches a certain level. Whatever currency you choose, get paid instantly via BACS, PayPal, or direct transfer. You also get custom SMS, email alerts, and insights easily and quickly respond to the changes using campaign reports.
4 Steps to Make Money Online with Affiliate Marketing
Here are some affiliate marketing tips to help you make money through affiliate marketing after you have chosen your preferred marketing platform, whether it's your blog or the above networks.
Choose Your niche
Getting started with affiliate marketing is easy, but there's a lot of competition. And to stand out, you must be specific about what you are going to talk about and recommend to your audience.
So, choose a niche and build your brand around it. It helps you build a focused brand and audience who knows what they can expect from you. And when they face an issue or seek guidance related to that topic, they will come to you to find information or product recommendations and drive your affiliate efforts.
For example, you can choose technology as a niche if you love the domain and has some knowledge of it. You can review relevant products like web hosting services, cybersecurity products, SaaS software, and so on.
Find Relevant Affiliate Programs
You can find various affiliate programs, but join those relevant to your niche and match your expertise level to be comfortable talking about them. They can be:
High paying with low sales volume
Low paying with high sales volumes
High paying with high sales volume
If you are targeting businesses, you can choose high-paying programs with low sales volume because they are niche-based such as web hosting, software products, etc. But if you are targeting consumers, you may choose low paying and high sales volume because you will promote tons of products with mass appeal.
Similarly, products such as credit cards come with high payouts and high sales volume. And if you would like to recommend a product that you love, you can also reach out to the company and ask if they have an affiliate arrangement.
Create Valuable Content
Creating high-quality content is key to a successful affiliate campaign. Whether you write a blog or create a YouTube video or IG TV videos, make sure you put out valuable information that solves your audience's problems and benefits them. Also, promote products and services genuinely that you actually believe in before recommending them to build a make your audience trust you.
For example, if you are a beauty blogger, you can review the products that helped enhance your skin or solve skin issues.
Drive Traffic
Once you have started creating good content and built some audience, it's time to drive your traffic so that you can get more people to click on your affiliate links. You can do this by following ways:
Build an email list of your readers or audience. Send them useful information, promotions, newsletters, webinar links, etc., to entice them to keep visiting your site and witness more sales.
Perform Search Engine Optimization (SEO) to optimize your web pages, so they rank higher in search engines, such as Google or YouTube. For this, identify keywords that consumers look for, add them strategically into your content, and build links.
Use PPC ads where you pay for site traffic. It is good if you have high-paying affiliate links and have a marketing budget.
How to Create an Affiliate Marketing Website
Creating an affiliate marketing website is easy and can be made by anyone who wants to start affiliate marketing. Given below is a 10-step process of how to create an affiliate marketing website you can follow to start your website.
Decide the model – Niche, Influencer, Location
Before you start your website, you should be clear about the topic you want to market on your website. There are a variety of niches available such as food, travel, tourism, gadgets, consumer goods, etc.
You can choose one or more than one topic and start looking for influencers and locations suitable for your niche. The main thing you should pay attention to is choosing a topic that interests you and the market trends.
Make a list of affiliate programs associated with them
An online merchant website will pay an affiliate website a commission in exchange for sending them traffic under an affiliate program. These affiliate websites display links to the merchant website and get paid by a specific contract. You have to look for the number of affiliate programs associated with the topic you're interested in.
There are broadly two types of affiliate programs: in-house and third-party. In an in-house affiliate program, a merchant connects with the Affiliate using software instead of a network. Whereas in third-party affiliate programs like CJ and ShareASale, the merchant connects with a network.
Select the domain and web host
The next step is to select the name of your website, which is the domain name. The name of your website should be catchy, trendy, and attractive to the audience. Once you decide on your domain name, choose your web host. There is a massive variety of web hosts available on the internet. It would be best if you chose your web host according to your requirements and budget.
Choose a website builder
Creating an attractive website is a necessity for affiliate marketing. After deciding your hosting and domain, choose your website builder. Like web hosts, there are many website builders available on the internet. So, keeping your requirements and budget in mind would keep your requirements budget in mind if you also chose your website builder.
Deep dive into theme and plugins
You can pick a theme for your website builder. A website's niche and kind, such as an e-commerce site, a personal blog, etc., will affect the themes and plugins available. The addition of plugins to a theme can aid in website optimization. Also, the theme should be attractive to make the landing page attractive, and the website should smoothly work to garner the audience.
Start creating blogs around the list of affiliate programs
You must start generating income from your marketing efforts by creating exciting and helpful content that helps your readers make wise purchase decisions. To start your content generation process, you can use how-to guides, listicles, articles, social media, adverts, etc. These kinds of materials are quite popular and can expand the audience for your website.
Work on SEO and social media strategies
If you wish to reap the most from your affiliate website, you must optimize it for search engines. Additions like keywords, external links, share buttons, etc., can help you do this. Additionally, you must be active on social media to market yourself, your websites, and your blogs to a broader audience.
Keep an eye on competitors
In addition to monitoring your website's general performance, you also need to monitor your competitor. By keeping track of them, you can identify which components have the best conversion rates and better understand your website's advantages and shortcomings.
Know the market demand
Knowing the market demand can help create content that caters to the current need. This, in turn, will help you have better visitor interaction and increase the reach of your website.
Track affiliate marketing success
Establish a few analytics tools to keep track of your affiliate marketing strategy and make informed decisions. You can use them to track your website's visitor volume and sources, conversion rates, and the most and least popular content posts.
What are the Tips to Keep in Mind During Affiliate Marketing?
We already know that affiliate marketing is a growing sector of the marketing industry. We have listed a few tips you should keep in mind during affiliate marketing to help you thrive in your career.
Build credibility in the market
Your affiliate marketing efforts must consider credibility since potential customers must feel confident enough in you to follow your advice. Depending on your sector and the things you're endorsing, you'll need credibility to generate affiliate sales. Building credibility takes time.
So, if you're starting with affiliate marketing content creation, you should not expect to get success right away. Building credibility requires perseverance, consistency, and patience.
Understand the niche before you start promoting them
Before you start promoting a product, you should understand its niche carefully. Interviewing other users of the good or service, or even the one who creates or sells it, is a possibility you might consider understanding your content better.
The genuine experience of a product's user and the subject-matter knowledge of a product specialist give your recommendations more weight. This might offer your suggestion more substance and help you convey a narrative to your audience.
Offer value rather than content
Apart from offering the content, you can also offer additional values such as bonuses, codes, etc. Marketers occasionally provide bonuses to anyone who purchases to promote their affiliate programs. You may work out an agreement with the promoting company to provide a special incentive for your audiences if you have a suitable audience and high engagement.
Since you can encourage your audience to buy through your links for special discounts, companies can more successfully target their sales to the correct audience. This is definitely a win-win situation for you and the company.
Attractive CTAs
You must carefully consider where and how to insert affiliate links and codes into your material. An intrigued user mustn't miss them, even though it's critical to avoid being intrusive. CTAs can save the day in this circumstance. Compared to URLs that are published on your website or blog, CTA buttons drive more conversions.
Get into rating and reviewing (make sure to keep them authentic)
Adding ratings and reviews can help garner a lot of attention since most of the audience prefers seeing how the product has impacted its previous users. You can add ratings and reviews through the commodity through authentic websites and hyperlink them to prove the data. Keeping the rating and reviews updated and genuine is important to maintain credibility.
Be open to experimenting
Affiliate marketing is not always restricted to writing. You can try out various new and experimental marketing methods to attract an audience. You may film yourself utilizing and reaping the rewards of a tangible object. It enables customers to better understand the product's usefulness before making a purchase. If you receive the merchandise through a parcel, you can share your experience unboxing it on social media.
Stay consistent (and keep patience)
The last tip is to stay consistent and have patience. The process of affiliate marketing requires patience, intelligence, and uniformity. Starstarting ting affiliate marketing is sometimes overwhelming once you do it, it is pretty rewarding and easy.
Conclusion
I hope this information helps you make good money with affiliate marketing. You can either work directly with a brand and promote their product and services to earn a commission or choose an affiliate network that appeals to you the most and make money online while you sleep!
Amrita is a freelance copywriter and content writer. She helps brands enhance their online presence by creating awesome content that connects and converts. She has completed her Bachelor of Technology (B.Tech) in Aeronautical Engineering….

read more